In 2020 the families, communities and companies of the Sacred Valley have been strongly affected by the covid-19 pandemic and the consequent economic crisis. Much of our economy depends on tourism, the complete cessation of this industry has led us to rethink many of our objectives and also motivated us to work on strengthening our communities and environment.

With the dream of a Green Sacred Valley we see the opportunity for a more prosperous and healthy future.
We invite our friends and clients to participate as well. They can do it by donating directly to
the reforestation program or acquiring services and products from our partner companies. In this way you give us a hand now, we will take care of you as soon as we can and all together make the world a better place.
Reforest the Sacred Valley of the Incas
For thousands of years the Sacred Valley has been the habitat for hundreds of species of plants, mammals, birds, reptiles and insects. The arrival of human beings between 5000 and 7000 years ago brought about large changes that included fires, animal grazing, agriculture and construction. These practices continue to this date, with little or no consideration on their impact on the natural environment. This project involves local communities in the reforestation and restoration of the area offering hope for a renewed space in the future. 
It is our responsibility to restore natural areas so that they can once again regain their original beauty and abundance.
Natural Habitat for Native Species
In the absence of plants our mountains have turned into desserts. The presence of forests guarantees life for hundreds of birds, mammals, insects and many more plant species, many of them endangered. We have selected existing native species for our reforestation project starting with molle, tara, chachacomo, huaranhuya and q'euña trees.
Forests regulate extreme climatic conditions, reduce erosion, the probability of landslides and flooding. At the same time they function as banks of water, conserving in their soil and roots the water necessary to survive the dry season.
Climate Change Mitigation
By reforesting, we plant new trees that absorb carbon dioxide from the atmosphere, thus reducing the presence of greenhouse gases that generate global warming. 
A FOREST OF NATIVE TREES IS THE HOME FOR HUNDREDS OF SPECIES.


Why reforest the Sacred Valley?
At first glance, the Sacred Valley is one of the most beautiful and abundant places in the world. However, a deeper look shows us the enormous damage we have caused to nature. Our rivers are polluted, the wetlands are disappearing year after year and the mountains, once abundant with flora and fauna, today are just a shadow of their former natural grandeur. Centuries of overgrazing, fire and deforestation have created a desert in many places that were abundant with life.
Reforest the Vilcanota River Mountainsides
Nursery preparation is very important, by starting trees in nurseries we grow strong plants that are ready to resist the challenges of nature.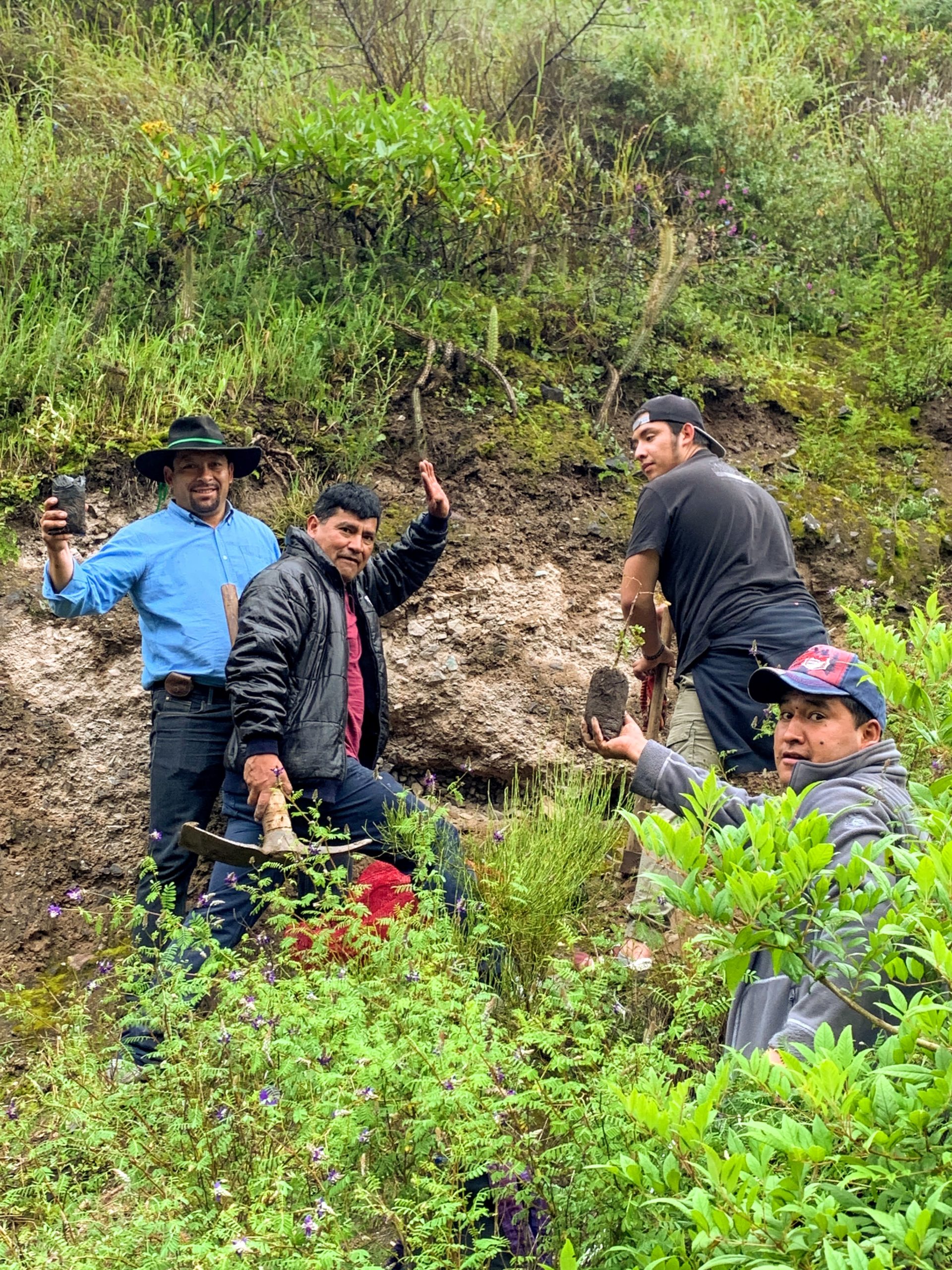 Volunteers are the key to planting trees on the mountain, for this we count on people from the area and visitors alike. The ideal time to transplant is between December and January.
We do not have enough information about germination levels and seed survival in the mountains. As a result we have started experimenting with seed propagation using a variety of methods.
COMMUNITY
OF OLLANTAYTAMBO
MAYORDOMIA DE LA FIESTA DEL SR. DE CHOQUEKILLKA
Un agradecimiento especial para todas las personas que vienen contribuyendo con este proyecto. Tenemos así a
Padrinos y Madrinas: Carlos Niederhauser
Amigos: Mark Turner y Michelle Borda, Jose Luis Dibós Balta, George Fletcher, Julia Steck, Ross Wehner
Compañeros: Daniela Mendez y Leonardo Gonzalez, Frank Hajek, Judy Carrera